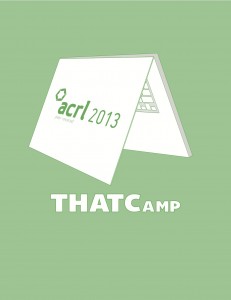 Registration for THATCamp ACRL 2013 is now open! Click here, fill out the webform, and you should receive an email when your registration is approved.
A quick note about the purpose of registration – typically most THATCamp's put a cap on registrations, so that the conversation and event space do not get overwhelmed. Since we are hosting THATCamp as part of the ACRL conference, we have an alternate goal in asking attendees to "register" here. As our THATCamp will be open to any and all conference participants, the purpose of registration is to get a sense of how many of you are committing (to some degree) that you really, really are planning to show up and participate. Also, registering will give you access to this WordPress site, where you will propose sessions, and interact with other Campers before and after the event.
So, come one, come all! But, if you want to get fully into the THATCampery, please take the time to register, fill out a profile, and propose a session. We want to make this a valuable experience for you, by you!